The singing films of tenor Joseph Schmidt. Finding a way to determine the different versions of his films.
- Elisa Mutsaers 2006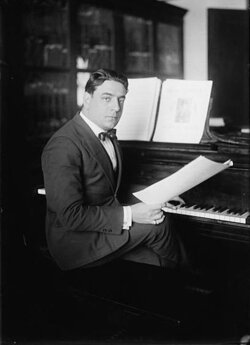 To conclude I would like to say something about the relationship between tenor films and the production of multiple language versions.
Eventhough some tenor films have been made after the Second World War, most of them appeared on the silver screen in the thirties of last century. The genre had its haydays in the years 1933-1934. Beside Joseph Schmidt tenors like Beniamino Gigli, Jan Kiepura and Tito Schipa also saw the advantages of making films. It was a perfect way to enlarge their already huge audiences. The elements that define a singer or tenor film can be divided in two categories. One the one hand there are certain aspects on the genre that are internationally appealing, on the other hand tenor films contain national aspects that can easily be adjusted to national markets.
The first elements that define the international aspect are the consiously coinciding of the image of the real singer and the character he's playing and the fact that the carreer and lovelife of a singer are central in the story. Since the tenors were so popular, the audiences thought that they would get an insight in the private lives of their idols by watching their films. The filmmakers sometimes cleverly played with that by giving the character in the film the same name as the real tenor. In EIN STERN FÄLLT VOM HIMMEL and A STAR FELL FROM HEAVEN for instance Joseph Schmidt plays a character with the name Jozef. Another element that was internationally appealing was the use of exotic (non-specific) locations, such as places in Italy or the South of France, concert halls and film sets. The tenor films always contain opera-like elements. Always some opera-arias are sung by the tenor. Opera has an international and exotic appearance by nature, especially when the arias are sung in Italian. Also the fact that the universal storylines were based on universal cliché's, was attractive to audiences all over the world. Everybody could identificate oneself with the poor gardener on a large estate that ends up becoming a world famous singer like Joseph Schmidt in WENN DU JUNG BIST, GEHÖRT DIR DIE WELT (Austria 1934). Finally the often-ironical way of treating the technical possibilities of the time had its appeal to audiences all over the world. In EIN STERN FÄLLT VOM HIMMEL and A STAR FELL FROM HEAVEN Joseph Schmidt for instance plays a music student who has to dub the singing voice of a famous tenor in his latest film, because the tenor has throat problems.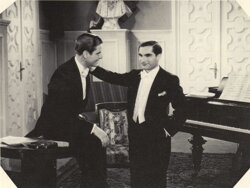 Besides the internationally appealing aspects, tenor films are characterized by two elements that are very national, but can easily be adjusted to other national markets. The first is the fact that the leading role is always played by an acting singer and not by a singing actor. Since tenors are used to perform in different countries and therefore are used to adjusting their repertoire to national audiences, they can easily do that in films as well. It seems that most singers have a certain feeling for languages, because of their profession, but in the case of Joseph Schmidt and for instance Jan Kiepura also because of their multilingual youth. It's easy for them to sing songs in different languages and it's not too problematic to speak (and understand!) the necessary dialogues in foreign language films. Singing actors would not have these professional advantages.
The other element in this category is the fact that the music is a combination of classical opera-aria's and melodies and popular schlagers. The opera-aria's can be kept in foreign language adaptations as long as they are sung in Italian. But when for instance a German opera-aria is sung in a German 'original', either an Italian aria or an aria from an English opera can in the British MLA easily replace the German one. Popular schlagers say something about the cultural identity of a nation. Since all tenor films include a few schlagers, replacement of them by national copies of the concerning foreign country, makes them an excellent means to make a film acceptable to foreign audiences. The way the musical repertoire was changed in order to address national audiences in foreign countries can be seen in the analysis schedule of EIN LIED GEHT UM DIE WELT and MY SONG GOES ROUND THE WORLD.
Successful MLV's could only be made of 'originals' that were characterized on the one hand by enough elements that were internationally appealing and recogized by all sort of (national) audiences, but ont the other hand contained enough elements that were suitable to be changed in order to culturally be accepted by different audiences in different countries. Therefor the tenor film seems to be the most perfect base to make MLV's of. The coinciding of both an international atmosphere ánd the possibility to stress national aspects made that these singing films were both comprehensible ánd acceptable to foreign language audiences in other countries. Since my research was only based on the films of Joseph Schmidt, I tried to find some more evidence looking at other tenor films. On the base of film descriptions, references in literature and biographies of tenors in the thirties I could compose a provisional overview of tenor films made between 1930 and 1942. I included films made by Beniamino Gigli, Jan Kiepura, Tito Schipa, Giacomo Lauri Volpi, Tino Pattiera, Louis Graveure, Charles Kullman, Alfred Piccaver, Richard Tauber, Marcel Wittrich, Allessandro Ziliani and of course Joseph Schmidt. These men made at least 47 films in which they themselves played the leading roles. Of 23 titles 27 MLV's or remakes had been made. That means that of almost 50% of the tenorfilms MLV's or remakes had been produced. I think this should be a warning towards film archives and researchers: when they run into a tenorfilm from the thirties an alarmbell should start ringing, there is a big chance that MLV's and/or remakes had been made of this film!