When conducting research, it is important to listen closely to the client's wishes but at the same time to take a broader view and to inform the client of other relevant options. As the project progresses, regular contact helps to ensure that the research remains in step with the wishes of the producer and/or maker.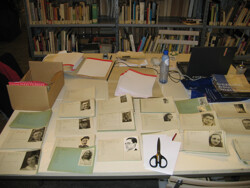 Although any search for images (film, photo, paintings, drawings, etc.), people and topics generally starts on the Internet, it will certainly incorporate other media as well. Books, documents, email contacts, (telephone) conversations and on-site investigations are at least as important. It is nevertheless very gratifying that many archives have made their database available online: the Internet offers access to international archives that a lack of money might have kept out of reach, just ten years ago. However, the Internet remains just a starting point; by no means has everything been made available online, and often matters or items will only surface over the course of personal contacts with the collection keepers. To seek and to find is still one of the most rewarding pursuits in life! 


A research log is kept during the course of the investigation. Finding places of (image) material are recorded, as are the names of contact persons and any conditions that may attach to the use of the material. For an (exploratory) investigation of a topic or theme, a documented report is compiled which may also include a report of the talks held with relevant people, as well as all contact details of course. If necessary, the dossier will be supplemented with photographs and perhaps some sound or film excerpts. In the end the dossier always contains slightly more than the producer or director had asked for. It is up to him or her to make the final choices.



Although we have a particular fondness for documentary work, the knowledge and skills of the Film Atelier are also available for websites, exhibitions and books. Work for websites can optionally be combined with editorial work, often performed in collaboration with Netrex Internet Solutions.