Inventorying, restoring and management advice for 35 and 16mm films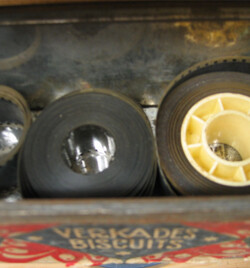 Film collections can be found everywhere. Large collections of course exist in obvious places such as the Amsterdam Film Museum and the Institute for Sound and Vision in Hilversum. However, films can also be found in more unexpected places; for instance in archives and museums whose core collection consists of entirely different materials such as paper, paintings or stuffed animals. Businesses, associations, embassies, convents and churches can also turn out to be keepers of large or smaller film collections.


In the past, the importance of a film collection as a complement to the core collection was recognised and attended to by a staff member especially responsible for film. He or she would acquire relevant productions that were used as study material by other staff members on the one hand, and were screened for an interested audience on the other. It also happened that organisations produced their own films.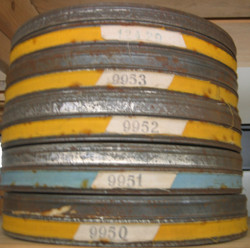 Due to a shifting focus and changing interests, and frequently motivated by cost saving measures, film staff members were no longer replaced once they retired. The film collection then passed into the custodianship of for instance a colleague responsible for photographs, or the publicity department. This person would then find a card index box or sometimes a data file containing film titles plus some supplementary information on his desk, along with the key to the cabinet where the films were kept. There was often no time or opportunity for a proper transfer, and the cabinet sometimes remained locked for many years afterwards. Editing tables and projectors stood around collecting dust, were not properly maintained, and were often discarded in the event the organisation relocated to other premises. And subsequently the photography staff member would retire or change jobs, and as a result there are now countless museums, archives, companies and other institutes left with a cabinet or some shelves containing between just a few up to hundreds of film cans, often without a clue as to their contents. And lacking the right projection equipment and not knowing how to treat celluloid films, those cans remain closed. 


WHAT A SHAME! Of course we don't so much mean that waste of space, but rather the films and their contents. Of course they won't all turn out to be masterpieces, but at the very least they deserve a chance to be viewed by a new audience. However, it takes a few steps to go from a dusty shelf or cabinet in a depot or cellar to a public screening, and that's where Film Atelier Den Haag can lend a hand.
Click here
to find out more.